Pet
From ggFTW Trickster Wiki
What Are Pets?
Pets are items that give a stat boost to your character. They will follow you around and perform different animations and speech depending on your interactions, for example: attacking a monster, walking, standing idle. However, the pets can not actually attack a monster or pick up items, and you can only have one equipped. Some Pets belong a certain group of 4, each Pet recommended for each type of character (Power, Magic, Sense, Charm), for example: the Warrens, the Scholars, the Winds.
Obtain
Pets can obtained from many ways:


| | | |
| --- | --- | --- |
| - Buy in stores of some Gates and Towns | - Win as reward for some Quests | - Win as Event prize |
| - Take from some Monsters (Pet dropped) | - Open some Event or MyShop Boxes | - Buy in MyShop |
| - Find in Gacha Towns | - Breeding (from Eggs) | - Exchange for items with some NPCs |
Equipping
Once you've obtained a Pet, open your Inventory window (type "I"), click the Pet tab, and double-click the Pet.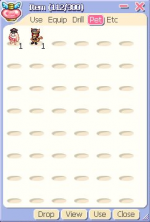 If you want unequip a Pet, open your Equipment window (type "E"), and double-click the Pet.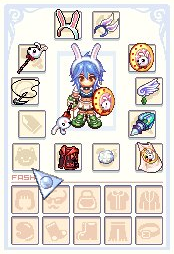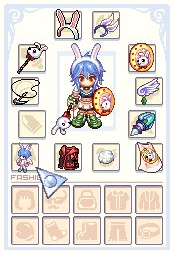 Training
| | |
| --- | --- |
| After you've obtained a Pet, you can train it. Take it to Pet Trainer Shara. She can be found in several shops around Caballa Island. Her main activity is to operate Pet Training. Just like equipment Tempering (see Alan for details), Shara allows you to re-roll the stats of your favorite Pets. You will need Protein Candy and Lock Candy (both available in MyShop and through some Events). | |
Reinforce
| | |
| --- | --- |
| Pet Trainer Shara also equip your Pet with Hardants. Hardants, like equipment Maturing Compound (see Nate for details), are items that improve the Pet's ability and performance. However not all pets can equip this Hardants. Pet Reinforce requires a specific hardant that can be used for the stat (Talent) you would like to add. The Pet you want to add the stats to also needs to have one or more Talent Slots open, and must accept that kind of stat reinforces. After the reinforce, the slot will be used. The Hardants can be removed by Shara's Bottle. Fore more details see Pet Reinforce. | |
Breeding
| | |
| --- | --- |
| After you've obtained a Pet from a Egg Pet, you can breed it for upgrade your levels. Take it to Pet Breeder Erin. She can be found in some shops around Caballa Island (Paradise, Megalopolis and Carbigal Shops). You will need Growth Vitamin (available in MyShop and through some Events). | |
Obtain an Egg Pet (VR)
Open and obtain a Pet in your 1st Stage (T1)!
Take to Erin with Growth Vitamin
Congratulations! Your Pet advanced to 2nd Stage (T2)!
The breeding process make Pet to advance until 4th Stage (T4).

Pet Fusion
Pet Fusion is a new experience provided by Pet Breeder Erin. Erin realized some cuter pets were being put aside because they weren't very powerful, so she's now made it possible through the teachings of her ancestors to train pets to learn the tricks of other pets!
This process works similarly to Item Fusion provided by Fusion Master Arlene.
1. To start, you need one of Erin's Secret Book. These can be purchased in MyShop and like Artisan's Flame acts like catalyst. Take your Secret Book to Pet Breeder Erin along with your 2 pets.
2. Once you meet to Erin, ask to fuse a pet!
3. When you get to the fusion window simply put the pet with the stats you like in the left slot.
4. Put the pet you want trained in the right.
5. Once you've done this, check to make sure the result is correct and place Erin's Secret Book into the last slot.
6. When you're certain everything is ready, hit "Pet Fusion"!

Now your cute pet has lerned everything it can from the pet with the stats you want. The old pet will be retired after the fusion process and you will no longer have access to it.
| | | | | | | |
| --- | --- | --- | --- | --- | --- | --- |
| | | | | | | |
| Take your pet with the stats you want | | Take your cute pet | | Take 1x Erin's Secret Book to Erin | | Congratulations! Fusion Pet completed! |
Pet Item Hunt
This function allows you to send a pet to look for drillable items on it's own.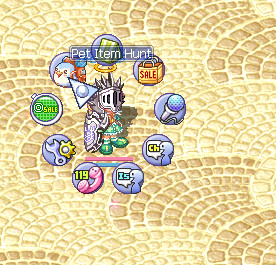 To learn about this function click here.


Special Functions
Currently there are four pets (Driller Boy, Driller Girl, Super Driller Boy, and Super Driller Girl) that has a special auto-drill function and several (Rosalyna 80 and Rosalyna 180, Lord Lycan 120 and Lord Lycan 240, Rook 140 and Rook 240, Ninja Noxx 70 - Nurse Nyxx 70 - Ninja Noxx 190 Nurse Nyxx 190, Incubus Noxx 90 - Succubus Nyxx 90 - Incubus Noxx 210 - Succubus Nyxx 210) that have a special voice function, and can auto-loot galder dropped by monsters.

Notes: If you're fusing a voice pet for an image, you will retain their voice. If you are fusing a Driller Boy or Driller Girl for stats you will retain their drilling function. If you are fusing a timed pet for stats your fused pet will still retain the time you had on it and can be recharged like a normal timed pet.
If you're fusing a voice pet for their image, it will loose the auto-loot galder function, but the dialogue it says will still correspond to your action (idle, fight, run, boss killed, unique looted...)
Notes
There are Pets that belong to your respective Sets. For more details see the Pet Table above.